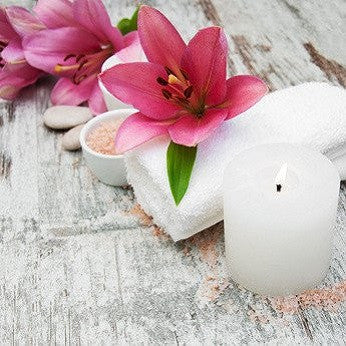 Salt Scrub - Sample
Pricing for 1oz sample.
Refine, brighten, and tone your skin with this mineral-rich salt scrub. Your skin will be left feeling soft and supple with a more even and balanced complexion. The organic and natural ingredients work together to regenerate skin cells, protect against sun damage and repair the skin from head to toe. While not all salt scrubs are suitable for use on the face, this scrub was formulated to be suitable and safe for use on face (when used as directed).
Highlight Ingredients
Shea Butter
Coconut Oil
MSM
Organic Sunflower Oil
How To Use
Scoop a small amount onto fingers and gently work into wet skin (face and/or body). Can be used with fingertips or damp cloth. Rinse thoroughly with arm water. Follow up with a cleanser, toner, serum, and moisturizer.
Packaging Tips
Jar
It is the brand owner's responsibility to conduct proper product compatibility testing with containers and closures.
Ingredients
Sodium Chloride (Salt), Butyrospermum Parkii Butter (Shea Butter), Glycerin (Kosher, Vegetable), Cocos Nucifera Oil (Organic Coconut), Dimethyl Sulfone (Msm), Helianthus Annuus Seed Oil (Organic Sunflower).

Updated: 01/2023
Warnings + Guidelines
Warning Statements:
Not for internal consumption. Pregnant or lactating people consult doctor prior to use. Discontinue if irritation occurs.
Cosmetics Labeling Guidelines:
Willo Naturals is a skin care private label manufacturer. All labeling must comply with the FDA Cosmetics Labeling Guidelines.
Disclaimer:
All information contained within this site is for reference purposes only and are not intended to substitue the advice given by a physician, dermatologist, or any other licensed healthcare professional. Willo Naturals has not been evaluated by the FDA and are not intended to diagnose, treat, or cure, or prevent any health condition or disease.