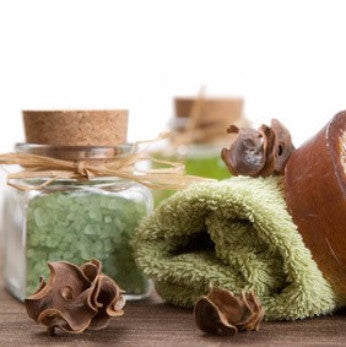 Mineral Spa Crystals - Sample
Pricing for 1oz sample.
Mineral Spa Crystals relax and pull inflammation from muscles and joints using aromatherapy. This formula is biodegradable, leaves no residue, and is great for baths, spas, or hot tubs. It softens the skin and water and does not upset the pH balance in spa chemicals. Use it as a quality spa treatment for your bath or spa.
Highlight Ingredients
How To Use
Use 2 Tablespoons per regular size bath, or 4 ounces per 8-person spa or whirlpool tub. Only add once a week if not drained.
Packaging Tips
Jar, Pouch with scoop
It is the brand owner's responsibility to conduct proper product compatibility testing with containers and closures.
Ingredients
Magnesium Sulfate (Epsom Salt), Glucose
Updated: 12/2022
Warnings + Guidelines
Warning Statements:
Not for internal consumption. Pregnant or lactating people consult doctor prior to use. Discontinue if irritation occurs.
Cosmetics Labeling Guidelines:
Willo Naturals is a skin care private label manufacturer. All labeling must comply with the FDA Cosmetics Labeling Guidelines.
Disclaimer:
All information contained within this site is for reference purposes only and are not intended to substitue the advice given by a physician, dermatologist, or any other licensed healthcare professional. Willo Naturals has not been evaluated by the FDA and are not intended to diagnose, treat, or cure, or prevent any health condition or disease.