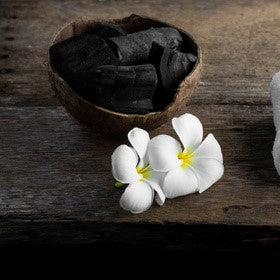 Activated Charcoal + Reishi Clarifying Cleanser - Sample
Pricing for 1oz sample.
Activated Charcoal + Reishi Clarifying Cleanser uses charcoal to deeply penetrate the skin and purge impurities to create more soft, clear skin. Organic Aloe Leaf Juice, Reishi, and Comfrey Leaf Extract are added to this formula for a powerful and effective, yet gentle, way to combat aging's effect on the skin. This cleanser can also be used as a body wash. Add this to any charcoal or anti-aging product line, or start a new one with our Activated Charcoal + Reishi line.
Pair with our Activated Charcoal + Reishi Clarifying Masque and Activated Charcoal + Reishi Clarifying Scrub
Highlight Ingredients
Activated Charcoal
Reishi Extract
Propolis Extract
Comfrey Leaf Extract
Organic Aloe Vera Leaf Juice
How To Use
Add to moistened hands or cloth and apply to face and/or body. Rinse thoroughly with warm water.
Packaging Tips
Bottle, Lotion-style Pump, Treatment Pump, Airless Bottle
It is the brand owner's responsibility to conduct proper product compatibility testing with containers and closures.
Ingredients
Aloe Barbadensis Leaf Juice (Organic Aloe), Cocamidopropyl Betaine (Surfactant), Aqua (Deionized Water), Disodium 2-sulfolaurate, Sodium Methyl 2-sulfolaurate, Charcoal Powder, Glycerin (Kosher, Vegetable), Glyceryl Caprylate/caprate, Lavandula Officinalis Flower Oil (Lavender Essential Oil), Cananga Odorata Flower Oil (Ylang Essential Oil), Citric Acid, Potassium Sorbate (Preservative), Sodium Benzoate (Preservative), Ethylhexylglycerin (Preservative), Propolis Extract, Astragalus Membranaceus Root Extract (Organic Astragalus), Cucumis Sativus Extract (Cucmber), Ganoderma Lucidum Extract (Organic Reishi), Lavandula Angustifolia Extract (Lavender), Symphytum Officinale Leaf Extract (Comfrey Leaf).

Updated: 11/2022
Warnings + Guidelines
Warning Statements:
Not for internal consumption. Pregnant or lactating people consult doctor prior to use. Discontinue if irritation occurs.
Cosmetics Labeling Guidelines:
Willo Naturals is a skin care private label manufacturer. All labeling must comply with the FDA Cosmetics Labeling Guidelines.
Disclaimer:
All information contained within this site is for reference purposes only and are not intended to substitue the advice given by a physician, dermatologist, or any other licensed healthcare professional. Willo Naturals has not been evaluated by the FDA and are not intended to diagnose, treat, or cure, or prevent any health condition or disease.